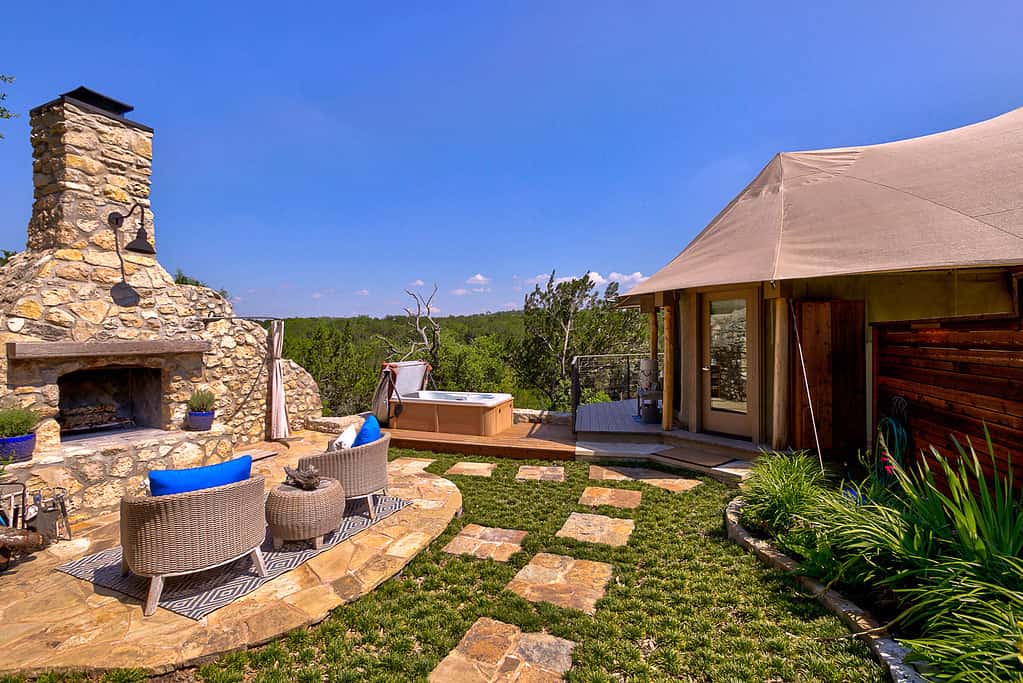 Just 35 miles from downtown Austin, is Spicewood. Spicewood is the perfect place to spice things up!  Whether you head to Spicewood for the day or for a weekend, you are sure to have a great time.
Spicewood is the perfect escape from the hustle and bustle of downtown Austin with beautiful hill country views and ample romantic spots. We recommend heading to Spicewood for a baecation where you and your love can relax and unwind while still spicing things up!  FireSong Ranch offers a number of luxury accommodations that perfectly compliment gorgeous views and relaxing amenities. Open Air Resort offers a great selection of accommodations for those looking for a fun stay in a retro RV or tiny home and also offers great campsites. Green Acres Spicewood also has a great selection of retro RVs and the cutest tiny cabins. Cypress Valley provides treehouse accommodations and glamping tents. No matter what type accommodations you are seeking, Spicewood has all the options covered!
Spicewood has something for everyone to raise their glass for with a wonderful selection of breweries, wineries, and distilleries. We recommend Frontyard Brewing for great craft beers. Check out 5 Soul Wine Co., Spicewood Vineyards, and Stone House Vineyard for wonderful wines. Look no further than Iron Wolf Ranch & Distillery if you are looking to raise your spirits (whiskey, bourbon, vodka, gin, and rum).
Of course, if you are going to be doing some drinking you will want to get some great food in your stomach as well. J5 Steakhouse offers up some of the best steaks and sides in Texas. If you are looking for something a bit more casual, check out the amazing pizza and ambiance at Pizzeria Sorellina.
Now, no trip to Spicewood would be complete without soaking in the beautiful Texas Hill Country. Take a dip at Krause Springs, go explore Pace Bend Park,  and marvel at the beauty of Hamilton Pool.
What are you waiting for?  Get to Spicewood and spice things up!